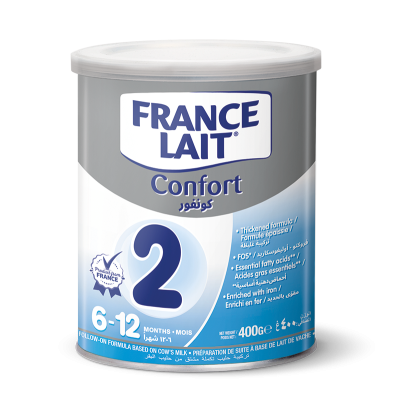 Ask your doctor before introducing follow-on formula.
France Lait Confort 2
Follow-on formula based on cow's milk
Alongside complementary feeding, this formula meets the specific needs of your 6 to 12-month-old, so your baby can grow well without any of those small everyday digestive upsets. It is also suitable for hungrier babies.
Milk fats for the good taste of milk, a composition closer to breast milk.
Prebiotics to reduce the risk of constipation and support digestive transit.
A thickened formula with starch to promote satiety.
Product information
Properties:
In compliance with applicable regulations, France Lait Confort 2 provides:
High quality proteins in a quantity suited to the infant's needs
Fats and carbohydrate for energy
Essential fatty acids, which contribute to brain development*
13 vitamins, 12 minerals and micronutrients in a quantity suited for optimal growth
Iron, which contribute to normal brain development
*Linoleic and α-linolenic acids
Ingredients:
Partially skimmed milk, vegetable oils (palm, soya, coconut, sunflower), starch, maltodextrins, demineralized whey (milk), whey protein (milk), fructo-oligosaccharides, minerals (calcium chloride, magnesium sulphate, calcium carbonate, iron lactate, sodium chloride, zinc sulphate, potassium hydroxide, copper gluconate, dipotassium phosphate, manganese gluconate, potassium iodide, sodium selenite), vitamins (C, E, A, niacin, B5, D3, biotin, K, B1, B2, B6, B12, folic acid), emulsifier: soya lecithin, choline bitartrate, inositol, antioxidants: ascorbyl palmitate and tocopherol rich extract, L-carnitine.
Directions for use:
It is important to follow dosage guidelines adapted to the age of your baby.

Precautions for use to ensure the health of your baby:
Strictly follow the instructions regarding dosing and bottle preparation
Prepare the bottle for immediate use
Discard any milk leftover in the bottle
Use only the measuring scoop supplied
Do not add any sugar
Wash the bottle and utensils immediately after feeding
Hermetically seal the box with the plastic cap after use and store in a cool, dry place, below 25°C.
France Lait Confort 2 must be used within 4 weeks of opening.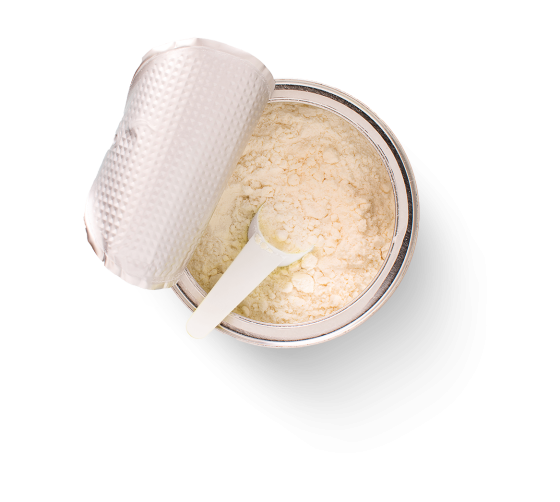 All our infant formulas are formulated and manufactured

in France
In each of our tins, you will find:
Our history

French dairy cooperative

Made in France

Our expertise

Milk fats

Excellent digestive tolerance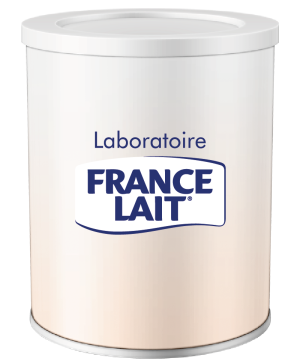 Our values

100% French milk

The same requirement all over the world

Our requirements

High quality

Strict traceability
Our recipe ideas
France Lait Laboratory has selected a collection of tasty little meals you can cook for your baby.