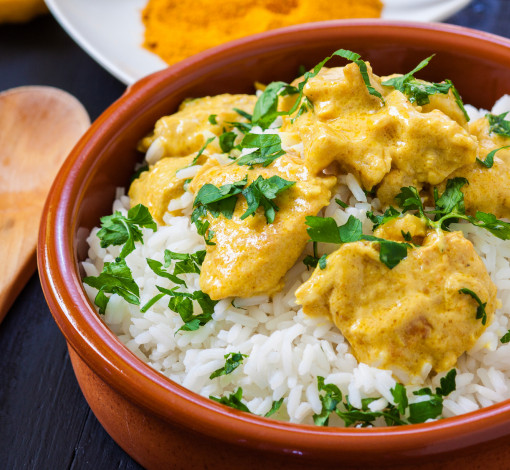 "MAURITIUS" upside down cake
Preparation: 20 min

Baking: 15 min

Number of portions: 4
Ingredients
3 chicken breasts
200g pre-cooked white rice
4 eggs
1 small Chinese cabbage
2 carrots
1 tin of button mushrooms
3 cloves of garlic
Salt
Pepper
2 tablespoons of soya sauce
2 tablespoons of oyster sauce
1 tablespoon of cornflour
Preparation
Slice the chicken breasts into thin strips and season with salt and pepper.
Carefully wash the Chinese cabbage and carrots. Chop them finely.
Slice the garlic thinly.
In a frying pan, cook the chicken breasts and then add the vegetables (Chinese cabbage, carrots, mushrooms) as well as the sliced garlic.
In a bowl, mix the soya sauce, oyster sauce, cornflour and 2 tablespoons of water. Pour this mixture over the chicken and vegetables and cook on a high heat for 3 minutes.
Break the eggs and fry them in a frying pan. Set aside.
Place the egg then the vegetable and chicken mixture in each bowl, followed finally by the rice. Press down. Place a plate upside down over each bowl and then turn the bowl over carefully without separating the bowl and the plate. Remove the bowl carefully and serve.