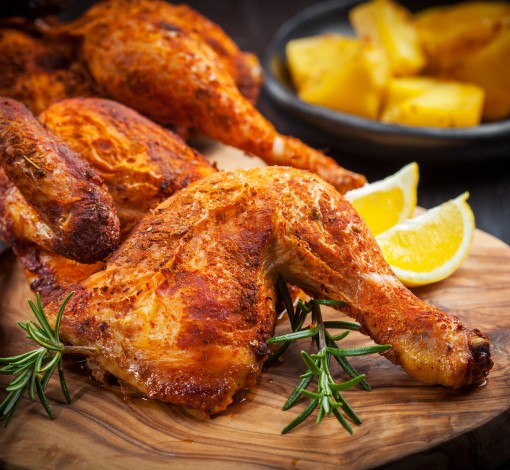 Honey and lemon poultry
Preparation: 10 min

Baking: 20 min

Number of portions: 4
Ingredients
600g chicken or turkey breast
3 limes
2 cloves of garlic
Thyme
1 pinch of paprika
4 tablespoons of honey
15cL pasteurised crème fraiche
2 courgettes
Olive oil
Salt
Pepper
Preparation
Carefully wash the lemons. Grate the zest of 1 lemon and juice the other 2 lemons. Mix it all together with 2 tablespoons of olive oil, the finely chopped garlic, 1 tablespoon of thyme, the honey and the chilli. Pour everything over the poultry and add salt and pepper.
Leave this mixture to macerate for about 1 hour.
Carefully wash the courgettes and cut them into thin rounds. In a frying pan, cook for 10 minutes in 2 tablespoons of oil and then set aside.
Brown the poultry breasts for 5 to 8 minutes on a high heat.
Spoon the courgettes into 4 plates and place the poultry breasts on top.
Add the cream to the cooking juices and bring to the boil. Pour some of this juice onto each plate and decorate with lemon.