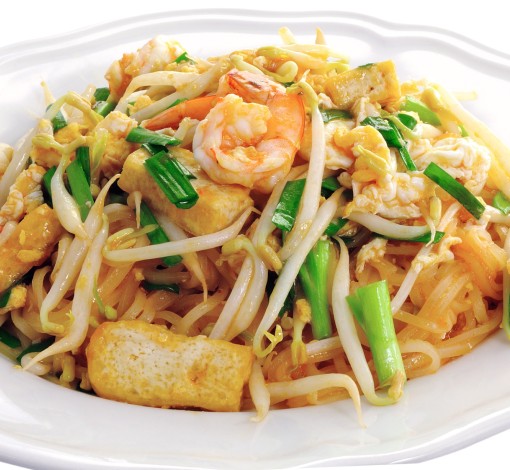 "CHINA" Chicken noodles with prawns
Preparation: 20 min

Baking: 15 min

Number of portions: 4
Ingredients
300g Chinese noodles
2 eggs
150g peeled prawns
150g chicken breast
2 onions
2 cloves of garlic
2 tablespoons of soya sauce
1 tablespoon of balsamic vinegar
3 tablespoons of oil
Salt
Pepper
Preparation
In a frying pan, break the eggs and make an omelette. Cut the omelette into small pieces.
In a saucepan, heat the water and cook the noodles as per the instructions on the packet. Strain the prawns and add the pieces of omelette. Set aside.
Cut the chicken into strips and brown in a wok with oil.
Then add the prawns, onions and finely chopped garlic. Mix and cook for 3 minutes. Then add the noodles, balsamic vinegar, soya sauce, salt and pepper. Sautee this mixture for a few minutes, and then serve.