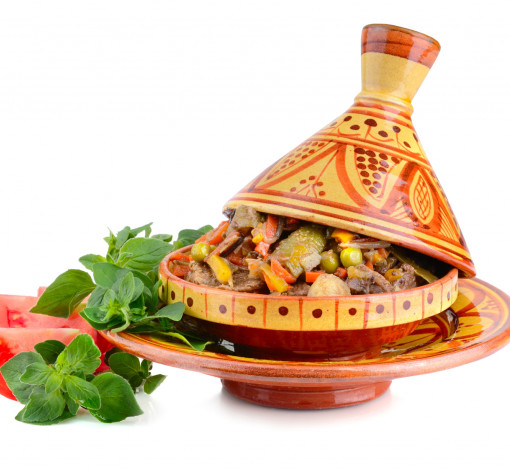 Beef tajine with sweet potatoes and apricots
Preparation: 15 min

Baking: 135 min

Number of portions: 4
Ingredients
750g braising beef
2 sweet potatoes
75cL chicken stock
200g dried apricots
1 large tin of chickpeas
2 tablespoons of raisins
2 tablespoons of olive oil
1 onion
4 cloves of garlic
1/2 teaspoon of ground ginger
1/2 teaspoon of cinnamon
1/2 teaspoon of grated nutmeg
1/2 teaspoon of ground turmeric
Salt
Pepper
Preparation
In a large pot, heat the oil on a high heat and add the finely diced beef. Brown for about 5 minutes. Set aside.
Peel and chop the onion and fry it in the saucepan for 5 minutes until nicely brown.
Put the meat back in the saucepan. Sprinkle with the finely chopped garlic, ginger, cinnamon, nutmeg and turmeric.
Add salt and pepper, and mix.
Pour the chicken stock onto the mixture, cover and simmer for 1 hour.
Then add the dried chopped apricots, raisins, and the carefully washed and finely diced sweet potato. Simmer for another 45 minutes until the meat is tender.
Add the rinsed, strained chickpeas. Heat for another 15 minutes. Serve and enjoy.